Reviews

Thanks to Danny and the rest of the band for an absolutely outstanding evening. The dance floor was hopping from start to finish. Many people told me that the band sounds better than ever. Thanks again to all of you for making the evening a huge success!
Michelle Weinberg
Royal Manitoba Theatre Centre and the Black and White Ball Committee
When my now-husband and I first began to plan our wedding, we knew immediately that we wanted a truly memorable party for our family and friends, who love music and love to dance. We were interested in the idea of a live band, but didn't know where to begin in finding one. Fortunately, we soon attended a wedding that the Danny Kramer Band played at, and we knew they were our band! Danny was professional and easy to work with right from the beginning. In the final weeks before our wedding, we gave him the names of a few of our absolute favourite songs, our favourite styles of music, and as well the general goal of our reception – a multi-generational dance party. Danny completely understood our request – I am truly not exaggerating when I say that there was not one square inch of available dance floor for the entire four hours that the band played (and we had set up the largest dance floor our tent would accommodate). We were so happy that the band played a mix of songs that every age of guest enjoyed – from my 6-year-old cousin to my husband's 90-year-old grandmother, nobody could bring themselves to sit down for a break. Whether it was all the groomsmen karaokeing "Twist and Shout", the father-of-the-bride doing an impromptu high-kick routine to "Rasputin", or my husband and I being carried around the packed dance floor on chairs, it was by far the most fun evening I have ever had in my life. We heard over and over again that our guests had never seen so many people on a wedding dance floor, or heard a band as amazing as Danny's, or enjoyed every single song selection they way they did at our wedding. The Danny Kramer Band exceeded our wildest expectations and delivered the most amazing party for our family and friends – we can't stop reliving it! We are already concocting a plan for an anniversary party…
Laurel Stitt, Bride
When we decided to plan our wedding, we knew we wanted something different. We decided to go with a live band, and when we saw online what Danny Kramer and his band could do, we knew we wanted them. Live karaoke could definitely be a sink-or-swim situation at a party, especially if no one wanted to sing, but Danny and his band were so inviting and supportive that so many people went up to sing. No one felt shy to try – it was amazing! They were the hit of our reception and everyone had a blast because of them. They are all fantastic musicians, and Danny is an excellent showman who has a passion for his craft. It shows with the energy and heart that he puts into the performance. Everyone was blown away with how awesome and entertaining they all were. On our special day, we have so many great memories that surround the joy and entertainment that the Danny Kramer Band brought to our event. Hearing them perform "I've got you under my skin" as our first dance will be a lifelong happy memory. The catalogue of songs that they have available is amazing and the whole band brought the energy of a band playing to a crowd of thousands, even though we had 100 or so in our tent. We can't thank you enough, Danny and crew, for the joy that you brought to our event. We would highly recommend them!
Glen Vajcner, Groom
The Danny Kramer Band is such a musically talented and purely professional band. Where the majority of weddings or events tend to fizzle out near the end of the night The Danny Kramer Band always keeps the dance floor packed and keeps everyone around to enjoy the night to the fullest.
Over the years getting to work with the Danny Kramer band has been a pleasure, as the venue it is not only about the performance but how the band is to deal with before, during and after the event and I can truly say they make it so easy for us with how organized and professional they are.
Recently the Fort Garry Hotel celebrated its 100th anniversary and the Danny Kramer Band was chosen to play the party that was thrown to celebrate this occasion which turned out to be a huge success. On top of that event the Danny Kramer Band has played at a family wedding for the owners of the Fort Garry Hotel, countless black tie galas, and even more weddings. Any time that they play guests who attend these events leave having had an amazing time in no small part due to the professionalism and energy that the Danny Kramer band brings.
Eric Wiebe
Banquet Operations Manager
Fort Garry Hotel, Spa & Conference Centre
www.fortgarryhotel.com
Danny Kramer – a name synonymous with elite top notch entertainment. The go to band for professional, high energy entertainment for any high style wedding or event – Danny is my number one choice when referring entertainment to my discerning clients.
Not only is Danny a wonderful person to work with for his friendly demeanor and his high level of professionalism and business ethic – but his band seriously rocks! I've had clients with a broad range of musical interests, and Danny nails it every time! From Frank Sinatra classics to eighties rock, all the way to today's top 40 – he covers all the bases and keeps the dance floor packed. His ability to interact with the crowd to get them involved, and his large repertoire to keep guests of all ages dancing is really what takes his band from an average event band to THE band. His group of musicians are also quite impressive and talented – I am always blown away with their performances and musical range.
Danny's number one interest is to please the client, and it shows every time. His attention to perfection is quite obvious. I only refer vendors that work well as a group and have the client's best interest in mind – and that is why I refer the Danny Kramer Dance Band. From start to finish it is always a pleasure working with Danny. I also have full trust that he will provide what the clients want, exceeding their expectations every time – and that is important to me as an event planner.
Danny Kramer Event Band is my number one choice for wedding and event entertainment in Winnipeg.
Tammy Ouellet
Divine Weddings & Events
www.divine-weddings.ca
Wow, what a night it was!! At a recent family gathering, people were telling me, again, what a fabulous time they had had at my daughter's summer wedding. Since the July wedding, I have heard comments such as: "the best wedding ever!" "a blast" and " amazing!" These comments were, to a great degree, due to the Danny Kramer Band, who gave us an incredible evening of music and dancing!
The bride and groom had chosen the largest dance floor that the tent could accommodate and it was full all night! Our families are very musical and Danny and the band provided entertainment that met our high standards for musicianship and repertoire. Some particular highlights of the evening were the groom, my son and most of the groomsmen giving us a wonderful rendition of "Piano Man" and the bride and groom being carried around on chairs. During "Rasputin" we were treated to the groom and his cousins sharing their dancing talents, as well as a sight that I had never seen in thirty years of marriage: my husband doing a Russian dance! He isn't Russian, so that was quite a feat!
Danny and the band were so interactive with the crowd and we got the impression that they were having as much fun as we were. They ended the evening with a beautiful rendition of "Can't Take My Eyes Off You", during which, as had been the case all night, the dance floor was full. It was a fitting finale to an enchanted evening!
With four more children who might be planning weddings, I hope to have the pleasure of hearing the Danny Kramer Band again!
Mother of the Bride
When we first started planning for the wedding, we wanted it to be held in the Concert Ballroom at the Fort Garry Hotel and we wanted a live band to perform on the stage. Good friends of ours told us about the Danny Kramer Band and how good they were. We contacted Danny and booked the band for our wedding date. From the beginning Danny was wonderful to deal with. In addition to hiring the band for the reception, we also asked him to put together a piano and cello duo for the actual ceremony. He made all the arrangements with the musicians including a rehearsal time for them to meet with our Soloist for the ceremony. Everything turned out beautifully for the ceremony. As for the reception, we were absolutely blown away with the band and, of course, Danny. We wanted it to be a party and what a party it turned out to be! The beautiful music, the outstanding singing, the huge repertoire……everything was, in a word, AMAZING. He kept the dance floor filled with all genres of music, which is what we wanted. The most comments we got from everyone attending, was just how great the band played. From the duet version of "Unforgettable" as our first dance right through to their final number, made our day very special and memorable.
Donald and James, Wedding Couple
"I have worked with Danny Kramer during several functions at Bridges, most recently for Sarah & Joe's wedding on Saturday, July 4th, 2015. I always enjoy working with Danny and his team as they are friendly, easy going, and carry a positive upbeat presence when at the venue. I especially appreciate Danny's accommodation to the venue to ensure they aren't intruding and are able to setup during a time that doesn't conflict our staff. Their performance was great and the staff and guests had nothing but great comments for the band. Highly recommended!
Corey Braaksma, Clubhouse Manager, Bridges Golf Course
The Danny Kramer Band was such an important part of our wedding. They helped set the tone of the evening right from the start of the ceremony to the very last song. They played beautiful music leading up to the ceremony, during cocktail hour and then throughout the evening. We had some strange requests, like learning an instrumental version of Under Pressure for the processional and for the bride to sing a surprise song for the groom after the speeches. Danny was so accommodating and an absolute pleasure to work with, not to mention super talented! In order to practice the surprise song, he let me come to an open mic night that he participates in so I could try it with the band before singing in front of a couple hundred people on the wedding night. He then encouraged the groom to rap a song he did for a junior high talent show! All the guests had such a great time dancing the night away and loved all the personalized touches that Danny helped bring to life. I've never seen so many people stay until the very last song at a wedding and beg for more!
Jill Parsonage, Bride
Winnipeg Free Press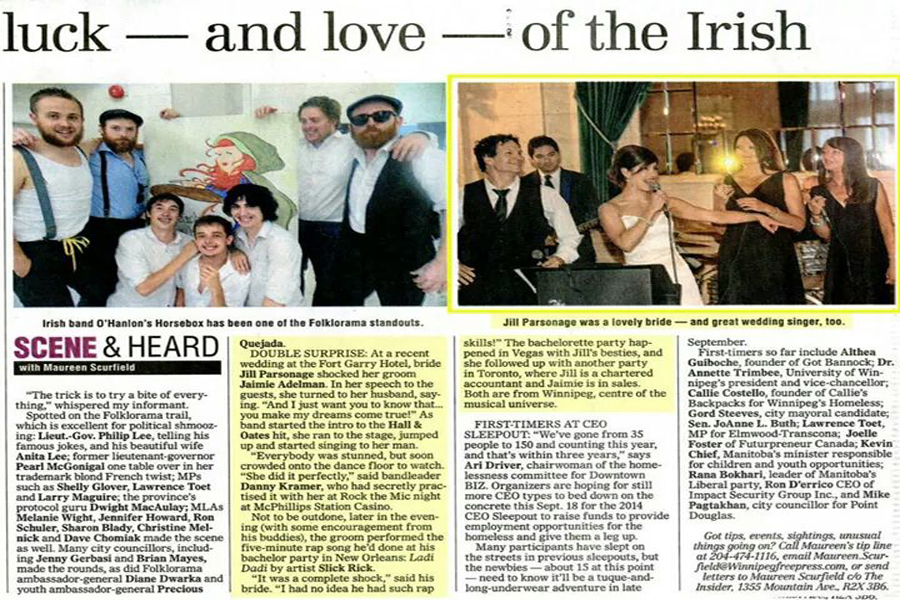 We were in married in Winnipeg on a cold day in February and our winter wonderland wedding was everything we dreamed it would be. For our reception we made our way to the Fort Garry Hotel. Upon arrival we were greeted by beautiful piano music before and during the dinner that provided a warmth throughout the formalities of the evening. Once the speeches were over Danny and his band performed John Legend's "All of Me" for our first dance beautifully it will be a moment we will always remember. He followed that with a rendition of Frank Sinatra's "The Way You Look Tonight" for the father/daughter dance that was so special.
As a singer myself and wanted to sing a song for my husband. Danny was more than willing to make my dream a reality. It was such fun to practice with Danny beforehand and He and the band accompanied me perfectly. Later in the evening he invited me to sing with the band a second time which I really enjoyed, and it was so much fun being a part of this great band. The whole evening the dance floor was full as our guests enjoyed the music. We had discussed the musical selections with Danny briefly and he seemed to know what music resonated with our crowd and everyone loved the choices. The band was exceptionally talented and the singers had amazing range and harmonies and could perform any genre beautifully. You could tell the band was having fun and that energy really translates into the room.
Jill Parsonage, Bride
We were very happy with the Danny Kramer Band and would recommend them without hesitation. We have had so many people tell us that they have never had so much fun at a wedding before and we attribute much of that to the wonderful music of the Danny Kramer Band.
All the Best,
Ben and Liza
Dmytro and I got married this September and we had used Danny Kramer Band as part of our entertainment for the evening. We have nothing but good things to say about them! From the very beginning, Danny promptly replied to all of our emails and made us feel confident in our choice. He is very flexible and open to suggestions as well. When he performed for our wedding we had lots of compliments from our guests about the band. One highlight of the evening was that they had coordinated with the DJ an additional song to play for the Hora and it was awesome! Thank you so much for the wonderful experience!
Susan and Dmytro
Dear Danny and band members
Thank you so much for adding such a great element to our children's wedding. It's been a please dealing with you. You all did an awesome job!
Thanks again
Donna
"We had the opportunity to be guests at a wedding last year in Winnipeg where Danny Kramer was playing. We were so impressed with his band's performance that we decided to book him for our wedding this year. Our wedding was relatively small with only 100 guests, but Danny and his performers really brought lots of life to our reception! When booking with Danny, we saw that his band does Rock the Mic at one of the local performing centers here in Winnipeg. That gave us the idea to have Rock the Mic at our wedding. Rock the Mic brought karaoke to an entirely new level of fun as our guests all felt like rock stars when they went up to sing with Danny's band. Danny also has an extremely large repertoire of songs to choose from! However, there was a special song that I wanted to sing with my Maid of Honor that he did not have on his song list. The Danny Kramer Band learned that song for us within 2 weeks of the wedding, and I felt like I was singing with the band One Republic because his band was so detail-orientated with creating the same sounds that the original song has. All of our guests were extremely impressed with The Danny Kramer Band, and the karaoke is still a topic that is brought up by our wedding party and other guests who enjoyed it so much. We feel extremely lucky we were able to book The Danny Kramer Band for our wedding day as he is in high demand for weddings in Manitoba during the summer wedding season. We highly recommend The Danny Kramer Band for any event small or large for great entertainment and for a professional performance. Their website recordings do NOT give this band the proper sound sample that it creates as they sound fantastic live! Thank you Danny and to your performers for making our wedding reception so memorable!"
Sarah, Bride
Danny Kramer,
Thanks so much for the amazing job you did playing for our wedding. You truly made the evening an absolute blast. I have received endless compliments about the fabulous job you and your band did!!! And the karaoke was a hit.
Deanna & Drayton
Dear Danny
we want to thank you for the absolutely amazing job you did at our wedding. Everything was just Fantastic and we've had so many people tell us how much they Loved your band. We wanted a fantastic party and that's exactly what you gave us. You were so great to work with and we'd recommend you to everyone.
All our Love
Maurice and Benji
The Danny Kramer Band is one of the main reasons why our Wedding was so special. The pianist at the ceremony performed beautifully and the band really brought the energy during the dancing. First of all, they learned 'Do You Realise?' by the Flaming Lips for our first dance. It is a complicated song but the band did such an amazing job and we could not have been happier. They followed that with an energetic horah (a traditional Jewish dance) that really set the tone for the evening. There was really good energy in the crowd that the band fed off of and in turn, the crowd got more energetic. Prior to the wedding Danny was always available to answer any questions and accommodate any requests. He sent us the very long list of songs the band plays and played so many of the songs we requested. He has such great showmanship and really knows how to get the crowd going. All of our friends and family could not stop telling us how much fun they had dancing all night. The Danny Kramer Band are one of kind. They are all so talented and so professional that you know they are going to make the most special day of life also the most fun and worry free. It really was the most wonderful night and the Danny Kramer Band was a big part of that.
Dov, Groom
Dear Danny
Thank you for a great evening. Everyone enjoyed the best band in Winnipeg.
Garth
Dear Danny
Thank you so much for playing at our wedding. You and your band were spectacular. We have heard from many guests that ours was the best wedding they have ever attended. Mike and I attribute that in large part to you. We wanted fun and WOW did you deliver! We will enthusiastically recommend you to everyone we know.
Thank you so very much
Kendra & Michael.
Dear Danny & Band Members,
Thank you from Jay & Meg, Ward family, Burntt family, and all our special guests of family and friends for making the wedding an Awesome event and celebration! You are the best! Many many compliments were received! Thanks from all
Peace
Danny & the band
We can't thank you enough for helping us create the party we had always envisioned for our wedding. The band was the highlight of the night and our friends are still raving about it. We could have kept dancing for hours that night and wish we could relive that part of the night over and over again. You're truly the best!
Thanks again
Andrea & Ryan
Dear Danny
as always you & your crew were Amazing!!  Thank you so much for everything and being the perfect touch to our event.
The staff at GG
Danny you were absolutely fabulous…..the shining candle on top of our vision! I can't believe that it came together and rolled out…without a hitch. I'm literally beating off the praise…Thank you for your support and for being part of this!
Until next time!!
Melanie
Dear Danny (& the Gang),
I just wanted to send you a little note to show my immense gratitude for everything you did for me with regards to my recent wedding. It was the most spectacular night of my life and the music made it all possible. You set such a fun, upbeat tone from the first number you played, making the rest of the night a non-stop party! It was truly more than I could have ever asked for. You truly were such an instrumental part of the wedding of the year (as I am told it was!) and I owe it all to you. Thank you so much again and keep in touch! (I would be glad to help with any impromptu performances you may need me for!)
With Love, Mel and Michael
Danny,
it was a great a pleasure to meet you and listen/dance to your great music. I also enjoyed our dealings beforehand. It was great that we could do business on the phone, fax, e mail, etc. You and your group were very accommodating (it cannot have been easy to sing "Blue Cadillac" and "Blue Eyed Girl"!). Thank you.
I am grateful that Rick suggested to call you. Like Rick, I will also pass your name/number on to other people.
I hope that our paths will cross paths again, preferably for another paying gig.
Jim